Why traditional asset management needs to grow
A traditional asset management framework focuses on man-made ("gray") infrastructure, often to the exclusion of ecological or natural ("green") infrastructure. When both types of infrastructure exist side-by-side, they are usually managed by separate entities (utilities, branches, agencies, etc.). This separation can make communication between (drinking) water, wastewater and stormwater entities difficult and can hinder green infrastructure's potential to support the functions of gray infrastructure. A changing climate with rapidly fluctuating precipitation patterns has already shown that aging gray infrastructure systems in the US need this support. Green infrastructure has the capacity to save systems money, protect and improve ecological health, and increase operational efficiency.
Enter the Integrated Asset Management Framework (IAMF)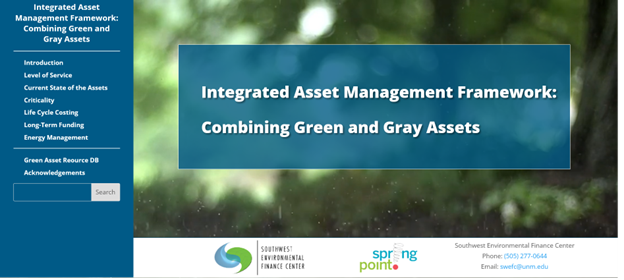 IAMF home page. Image credit: SW EFC
The SW EFC has embraced and promoted a gray asset management framework for water systems, emphasizing the importance of data collection, planning, and management. These same concepts also apply to different types of infrastructure in the fields of wastewater and stormwater management. The SW EFC has seen that the use of green infrastructure is expanding within water and wastewater systems, with a particular surge in its use in stormwater mitigation.

Image credit: SW EFC
Why integrate?
Incorporating green infrastructure into the traditional asset management framework has some clear benefits. An integrated approach:
Gives more opportunities for collaboration between different kinds of systems and agencies, breaking out of an isolated "water only" approach.
Gives utilities and supporting organizations like the SW EFC access to new funding avenues, which has allowed the SW EFC to tackle a greater breadth and diversity of assistance projects.
Enables utilities and supporting organizations to address social issues not encompassed by a solely gray asset management framework. Green infrastructure is often more public-facing and can lead to a closer link between citizens and water infrastructure that is not well-facilitated by closed treatment facilities and underground pipes.
For these reasons, in 2019 the SW EFC embarked on a 3-year process to integrate green and gray asset management into one comprehensive framework. The project is funded by Spring Point Partners and is now in its final stages.
The unified approach follows the same five core concepts used in traditional gray asset management: Level of Service, Current State of the Assets, Criticality, Life Cycle Costing and Long-Term Funding. These core concepts are part of a smart business strategy no matter what the assets are, and integrating green assets into the framework allows systems already using asset management for gray infrastructure to more easily add green infrastructure to their existing systems without needing to reinvent the wheel.

Image credit: SW EFC
Bringing in expert voices and a beta-testing program
Understanding the benefits of an Integrated Asset Management Framework (IAMF), the SW EFC organized two gatherings of 30 experts in the fields of green infrastructure as well as traditional asset management. At the gatherings, the SW EFC asked for expert input on basic key questions about integrating gray and green asset management principles, and also presented attendees with the draft IAMF framework for critique.
With the feedback gathered in the 2020 and 2021 gatherings, SW EFC staff refined the integrated framework prior to beta testing with utilities from the Green Infrastructure Leadership Exchange (GILE), an alliance of North American communities at the forefront of green infrastructure implementation. These utilities beta-tested the integrated framework with specific green assets, and these beta-tests now serve as case studies in the IAMF website.
Results: IAMF Guide and Green Infrastructure Database
An interactive website (https://swefc.unm.edu/iamf) now hosts a comprehensive guide to the Integrated Asset Management Framework and is organized to make its 5 core components easily accessible to users. Users can also use the associated database tool (https://swefcapps.unm.edu/gardb) to gain a basic understanding of the design, construction, operation and maintenance, costs, and benefits associated with each of the green assets in the database. The Environmental Finance Center Network—of which the SW EFC is part of—continues to host workshops on using the Integrated Asset Management Framework to improve small water, wastewater, and stormwater systems. Learn more here: https://efcnetwork.org/assistance/request-assistance/#
Written by: Shannon Pepper
Contact us at: swefc@unm.edu