All water systems leak to some extent. Large main breaks garner most of the attention, but small, undetected, long-lived leaks (e.g. service line leaks; weeps and seeps at pipe joints; small, non-surfacing main line leaks) may result in a much higher volume of loss over time. On one hand, major leaks, or those that are easily discovered, are usually repaired quickly, resulting in repair expenses, downtime, and impacted customers which can be easily tracked. On the other hand, undetected leaks drain resources and revenue in the background and are harder to quantify. 
A variety of tools are available to reduce "real water loss," including pressure management, improved detection of leaks, asset management practices, and optimized repair. The first step towards reducing those losses is identifying the cause and extent of the real loss.   
This section of the Water Loss Switchboard contains tools and resources focused on identifying and addressing real water losses.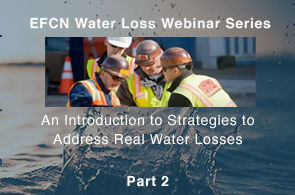 This webinar will focus on the four methods of reducing real water loss: responding to known leaks faster, asset management, pressure management, and finding hidden leaks.
read more